An experiment in communications outside social media
Hi, i'm seeley quest; here are some letters for comrades old and new. i'm a trans disabled performer, writer, organizer, and environmentalist based in Oakland over sixteen years, now in Montreal since 2017. i've presented in the Bay Area, Mtl and on tour, and facilitated workshops on disability and crafting resilient city futures. i love audiences connecting for co-learning and social action. J'apprends lentement Français…
i don't (yet?) use mainstream social media platforms; i favour email, and sharing updates when i can, which so far is intermittent. When i send a newsletter epistle, it goes to all subscribers in email, and also posts at this site. There will be some public interactive options here too, for readers to add comments or questions; you're welcome to reply individually in email also! Or to unsubscribe if needed.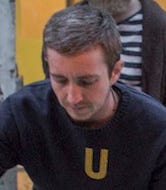 C'est moi. Image description: a thumbnail sized portrait photo of a white androgynous person leaning forward with focus looking down. Sie has a dark sweater on with a gold-coloured "U" letter placed on front for the occasion, and short cut multi-coloured red, brown and silver hair.
The multidisciplinary artist, integrative healer and educator who illustrated my chosen bridge-and-water-reflection image is the remarkable Rae Diamond.

Subscribe to quest letters
People
seeley quest, sie/hir
A trans disabled freelance writer, performer, facilitator, educator from US in CA | I work for hire, et comrades, arts, ecology, disability, gender, liberation